Cedar Distribution Day 2016
On September 17, 2016 forty-one river property owners planted 600 Northern White Cedar seedlings in an effort to preserve and protect the cold water fishery of the Au Sable and Manistee River watershed. Now in its twentieth year, the Cedars for the Au Sable project encourages river property owners to replant their native Northern White Cedar seedlings along the river edge to help maintain the delicate balance of the river's ecological system. Since the beginning of this project in 1997 by the Au Sable River Property Owners Association (ARPOA), over 20,000 Northern White Cedar seedlings have been planted and protected in deer-proof enclosures.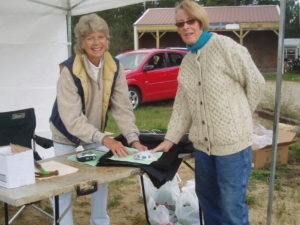 Volunteer members of the Au Sable River Property Owners Association assisting with this year's distribution included: Rodney Ney, Marie Harrington, Dave Smith, Boyd and Shirley Dillon, Tim Hornsey, Greg Stansbury, Ralph Rucinski, Julie and Jim Gibbs, Lee Scheffler, Pat and Peter Schmidt, Harry Stuart, Steve Witt, Mike McIntosh, Steve Loudon, and Chairman Howard N. Johnson. Ivan Witt, Registered Forester, Forestry Consultants, Inc. and Patrick Mohney, DNR Forester provided technical assistance.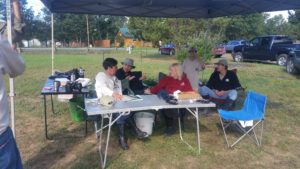 New plantings and care of existing cedars continued within the Mason Tract by the Anglers of the Au Sable, Mason – Griffith Founders Chapter (Grayling) of Trout Unlimited, William B. Mershon Chapter (Saginaw) of Trout Unlimited, Sierra Club, Headwaters Chapter (Gaylord) of Trout Unlimited and Paul H. Young Chapter of Trout Unlimited. On June 4, 2016, Chris Reister of the Paul H. Young Chapter headed a work project to maintain their plantings in the Daisy Bend area including the installation of 5 larger enclosures to protect growing cedars and an additional 7 larger enclosures at Downey's Stairs. At Daisy Bend, the first of the planted cedar seedlings had its enclosure completely removed. This is part of the ongoing Mason Tract Northern White Cedar Reforestation Project which planted and protected 700 cedar seedlings within the Mason Tract. On September 10, 2016, during the Anglers of the Au Sable River Cleanup, eighteen volunteers worked two sites within the Mason Tract maintaining cedar enclosures and installing larger fencing. The site on the south side of the south branch at Chase Bridge was maintained, while Anglers of the Au Sable's Lower Highbanks Stairs area had a total of 35 larger enclosures installed.
Many additional donations have been made to the project during the year from supporters. Major donations were received from both the Challenge Chapter of Trout Unlimited and the Michigan Fly Fishing Club. Also, Riverdale Mills Corporation, manufactures of the black PVC fencing we use to protect the growing cedars, have made their product available to the project at a discounted price.
The Au Sable River Property Owners Association (ARPOA) presented two special volunteer awards at their annual meeting held July 16, 2016. Award recipients were recognized for "years of distinguished service and dedication to the reforestation of the Au Sable and Manistee River basins." The awards were presented to Rod Ney, Jr and Marie Harrington by Cedars for the Au Sable's chairman Howard N. Johnson. Johnson stated, "there are hundreds of volunteers who help with the cedar seedling and protection project, however both Rod and Marie have provided extraordinary support to the project over many years".
Also receiving certificates of appreciation for service were Susan Thiel, MDNR; Patrick Mohney, MDNR; Kathy Ryan, USDA-National Resource Conservation Service; Anna Sylvester, DNR Parks and Recreation; Peter Jones, MGFCTU; David Smith, ARPOA; Marlene Swift, Ralph Rucinski, Jim Shifflet, Julie Gibbs, Patti Johnson.
Receiving the Distinguished Service Award was McLean's Ace Hardware Store for their years of community service in warehousing and distributing the 6-ft fence and stakes for the maturing cedars.